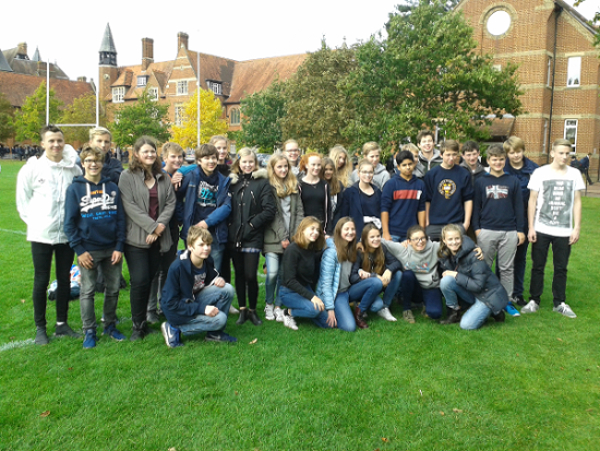 Abingdon Exchange 2017

This year was the 50th exchange between the Ratsgymnasium, Abingdon School and The School of St Helen and St Katherine. 29 pupils took part in the exchange, 15 girls (4 mixed-doubles, who also went to Abingdon School) and 14 boys.
We started our long coach trip to Abingdon on 1st October at 5:00 am. Finally, after nearly 15 hours on the coach and on the ferry from Calais to Dover, from which we could see the famous White Cliffs of Dover, we arrived in Abingdon at SHSK coach park at about 8 o'clock local time, where our exchange families were already waiting for us.
On the following two days we went to school with our exchange partners, which was very interesting, and we saw lots of different lessons. All boys are wearing school uniforms, including grey trousers, black shoes, a light blue shirt, a dark blue jacket and their house tie. The houses are a little bit like the houses in the Harry Potter movies, with a lot of competitions between them. After school some pupils stay in their houses to play table-tennis or chess or for their clubs.
We went on trips to Oxford, Portsmouth, Bath, where we visited the Roman Baths, and finally, Oxford again.
At the weekend we stayed in our families and had some nice days while visiting some interesting places like London, Stonehenge and Warwick Castle or just had a good time in Abingdon city.
After eleven wonderful days we had to go back to Germany. We were a little bit sad, but we are looking forward to meeting our exchange students again in February.
Jan Moritz Tappe, Janosch Weddeling, OIIId
My time in Abingdon School was a great experience. However, when I first came to Abingdon School, I was very confused. There were so many boys with their uniforms watching me all the time, so I did not know what to do. Almost every single one of them seemed to know me and my name, which made me feel even more confused. Some of them were very polite, some of them came to us exchange pupils from Bielefeld and talked to us and some of them just treated me like a boy! We were something like an "attraction" for the boys.
My exchange partner was very polite and friendly and on my first day, he was the only English boy that I was not too shy to talk to. I was with him all the time, which made it even easier. It did not take a long time to feel comfortable about going to a boys' school to me because I got to know his friends, who were very funny and polite. All in all, it was a lot of fun to go to a boys' school because the boys were funny and friendly but especially because they were much more relaxed and uncomplicated than girls. I would definitely want to be a "mixed double girl" again if I could!
Sarah Heidemann, OIIIb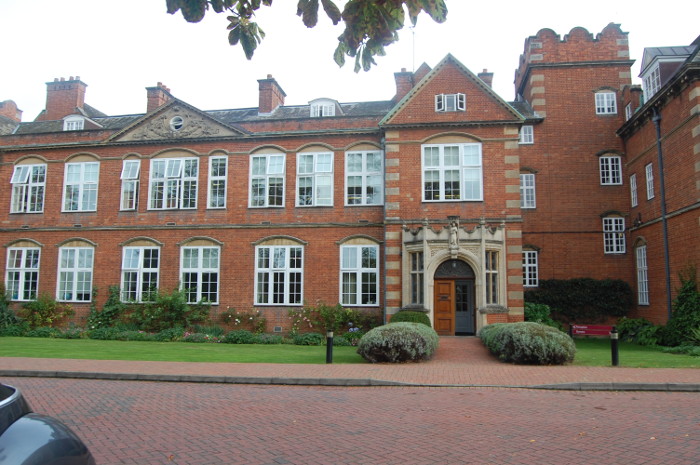 Our excitement started already months before our actual exchange trip. We had thoughts like "Will my English be okay? Will we understand each other?" or "What is my host family going to be like?"
Then the big day came; we started early in the morning. I wanted to sleep a bit, because I hadn't slept the night before. But I was too excited. We talked a lot, watched some movies and talked more. It was the same on the ferry. It was already late when we finally arrived in Abingdon. My exchange partner and her dad picked me up. My whole family was really nice and we had no language problems (which made me feel really happy).
The next days were great; I got used to my exchange partner's daily routine and my English skills improved a lot. We went on many exciting trips, for example to Oxford or Portsmouth. We learned a lot about the cities and visited some sights and colleges. I still remember the impressive dining halls of Balliol College und Keble College. There was a big shopping mall/outlet in Portsmouth where we all went shopping. I bought two sweatshirts, one for me and one for my little brother, whom I missed a lot. And then we visited the Roman Baths in Bath and the Royal Crescent. Mrs Schütze said something like this: "If you haven't seen the Royal Crescent, you haven't been to Bath". We talked about our adventures to our friends every day. And I found some new friends. The English girls were very nice. It was fun spending time with them and we had some nice conversations.
After school I had to go home by bus. Our journey took about one and a half hours. I had to go to school and back home by bus, so two journeys adding up to three hours every day. That meant there was no time for doing anything special. We came home, chilled for maybe one hour and then we had dinner already. After dinner we watched a movie, talked or Kate and her brother Scott did their homework and I wrote my diary. We all had to do that, which was a good idea because so I remember everything we did much better and I collected some souvenirs like bills or some guides.
At the weekend my host family took me to an old Irish pub, we went on a nice and long walk and when we arrived back home again we played some games. On Sunday we went to Windsor and visited Windsor Castle.

I spent a wonderful time full of great experiences in Abingdon. I met some nice people, had some really tasty English puddings and unforgettable moments with my lovely host family and with my friends. I was really sad about leaving because time passed by so quickly... I would definitely want to go on this exchange again and I recommend it to everyone! A big thank you to everyone who made this time so special!
Annika Geilert, OIIIb