Abingdon Exchange 29th September - 9th October 2019

Sunday, 29th October 2019 - Our journey to Abingdon

Today was the day of going to Abingdon! I was really excited when I got up VERY early.
After I had said goodbye to my family, our bus left at five o'clock. First, everybody tried to sleep, but after one and a half hour we stopped for the first time at a motorway service area.
During our bus trip I read my book "The Hunger Games" and I talked to Lora and Emma.
At about twelve o'clock we arrived at the harbour of Calais in France. There we had to wait for more than an hour before we could go on board because the storm was very heavy so that the bus couldn't go onto the ferry.

On board, we went outside. It was almost impossible to stand on the wet floor because the wind was so strong.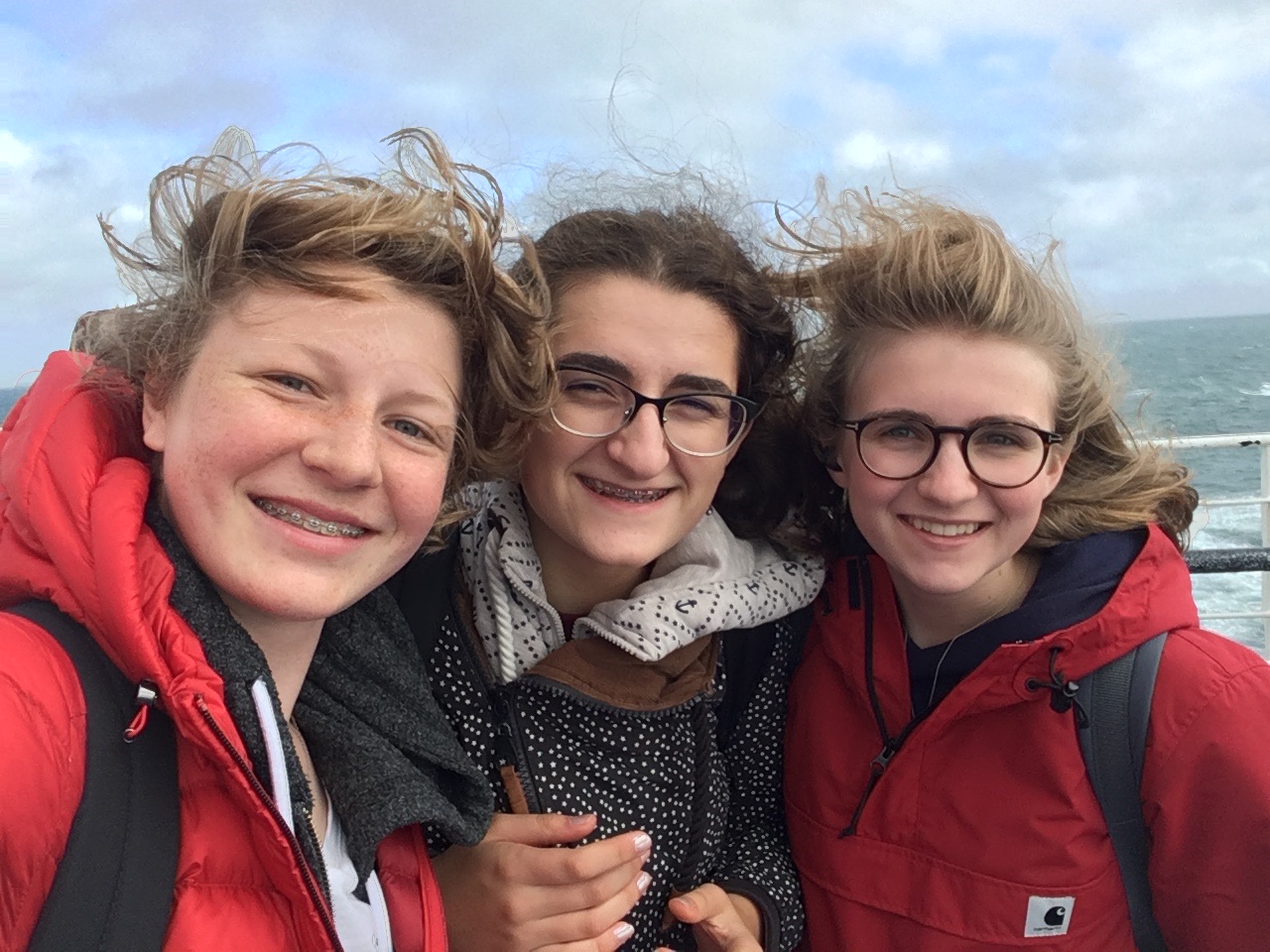 From the top deck of the ferry we saw the White Cliffs of Dover getting closer and closer.

When we arrived at the harbour of Dover, we had to wait again because of the bad weather. On land again, we took an English bus and went to Abingdon. On the bus we had to do a motorway quiz.

We arrived at St Helen's, the girls' school, at about half past eight British time. There our exchange partners were already waiting for us. My partner Leah's very nice family took me to an Indian restaurant in Newbury. At ten o'clock we arrived at their house and Leah showed me my room or little apartment: I have of course a bed, but also a little kitchen, a table and a bathroom.
But then I was so tired that I couldn't do anything else but go to bed. It had been a very nice evening in England and I am looking forward to the next days we are going to spend here.
Antoni Weißinger, OIIIb
Monday, 30th September
When I woke up I realised that I had neither heard my mobile nor my exchange partner, who had been knocking on my door for some time. I only had a few minutes until the school bus would arrive.
On the bus it was very quiet, so I had the possibility to snooze a little bit. When I arrived in school the other boys and I were able to listen to an interesting presentation about the history of Abingdon School. After that the Headmaster of the school told us something about the history of the exchange from Abingdon School's perspective. He spoke great German, because he had been living in Germany for a few years.
In the following lesson we had a tour of the school itself. It was surprising to see how big the school is and how well-groomed the lawn looks. After the tour I had two lessons with Freddy, which were very informative, although I didn't understand everything.
Surprisingly, lunch in school was pretty nice and tasty, although I had always thought that food in school canteens isn't so good.
After two more lessons Freddy had a singing lesson and then we went home by bus. When we came home we had dinner immediately because Freddy's brother hadn't had any school activities that day. After we had eaten Freddy and I watched a movie called "Poirot" together. I was very tired after that and went to bed.
Milan Ramsbrock, OIIIc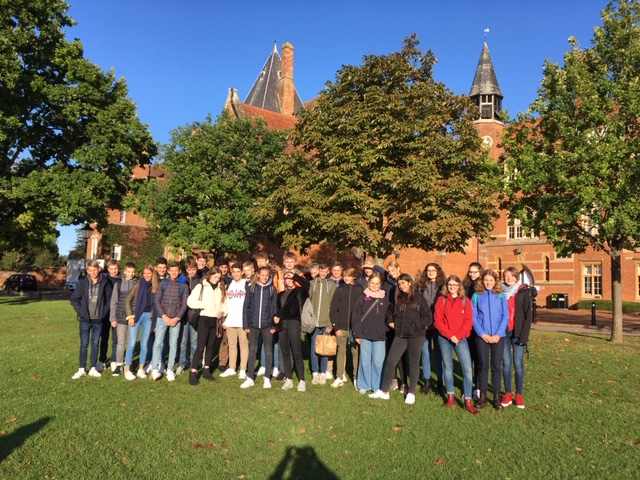 Wednesday, 2nd October 2019
It was a pretty cool day!
We took the bus to go to Oxford, and it was soo much fun! On our way to Keble College we saw Christ Church Cathedral, Deadman's Walk, Merton College and Magdalen College, where the author of "The Narnia Chronicles" taught.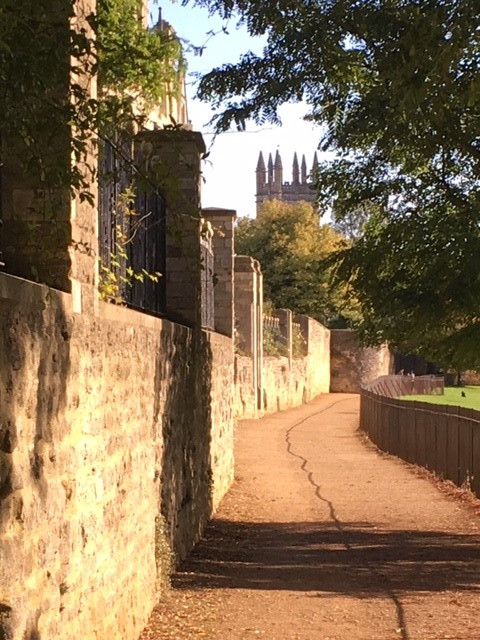 A nice student gave us a tour of Keble College. After that we visited the Natural History Museum, which was quite interesting because there were many skeletons.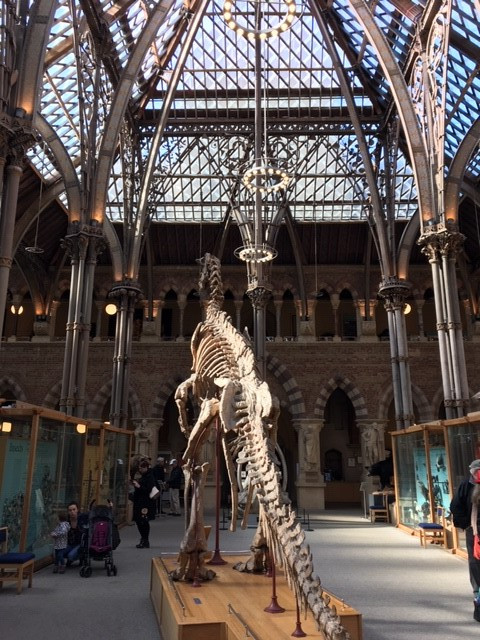 We also had some time to go into the centre of Oxford. I bought some bracelets for my friends back home and tried a cookie at "Ben's Cookies", which was the best cookie I have ever had. I also bought some shampoo and conditioner. They had a "three for two" deal, so I took another shampoo.
For dinner that night we had sausages with carrots and mashed potatoes.
Emma Bobbert, OIIId
Monday, 7th October
We went to school by bus as usual and met in Old School Hall. Then we got on the coach to Bath and arrived there 1.5 hours later.
We walked to the Roman Baths. The museum itself and the buildings around are really beautiful. I really liked visiting the museum, because you could see so many traces of the Romans and many sculptures of their gods. Moreover, there were many coins and pieces of jewellery. There was also a big pool and I could definitely imagine how much the Romans must have liked being there. Having seen almost everything, I went to the museum shop with Emely and bought myself a necklace with an owl, because this bird is the symbol of Minerva, the goddess the Roman Baths and the temple were dedicated to. After leaving the museum, we went milling around the town for about two hours and bought some fudge, which Bath is famous for. It tastes like Fondant with a lot of sugar, but it is really good. And as I knew that my host family likes fudge, I gave them some at the end of the day.
Lora Turan, OIIId